APY 200 Hour Yoga Teacher Training
with Geri Jones and Steve Hall
November 18 - December 9, 2017
Namaste and welcome to a life enhancing 3 week process. This course is suitable for those looking to transition from student to teacher, or simply immerse into the world of yoga practices and understanding. We see learning as a process of Experiencing, Embodying, and Sharing.  And that is exactly what we will do together on this immersion. We will explore Asana, Breath and Focused Awareness to build better understanding and control of our thoughts, habits and movement.  We will explore the simple bliss of single focused attention (Meditation). There will also be study of the Chakras and Koshas, 2 useful maps of understanding the multiple layers of gross to subtle energies that affect us in any moment. Ultimately we will connect a little deeper to our true selves and to the Consciousness that underlies and connects all things. 
Our FULL RESIDENTIAL Yoga Teacher Training includes:
• 200 hour Yoga Alliance Certification
• Max 12 students !!
• Course Teaching Manual
• Experienced friendly faculty trained in India, New Zealand, Australia
• Stunning Tranquil Coastal Kura Kura Retreat Center Seseh Beach near Canggu
• Comfortable accommodation
• All Vegetarian Meals
• 1 Balinese Massage
• 1 Bali Day trip
• Airport Pickup to venue
• Prices start at UA$3100 all inclusive fee for shared accommodation
Join Steve Hall (RYT500) and Geri Lorkin (RYT200) and guest teachers for this Yoga immersion.
You will be guided in a relaxed and focused manner through the steps to begin your Yoga teaching, covering all the requirements for YA200 accreditation. We have chosen an exceptional location in coastal Bali for this Yoga Teacher Training. Rustic and comfortable accommodation, Charming peaceful yoga retreat centre, you can hear the ocean. Staff are welcoming and so helpful. Food delicious and nutritious. A beautiful yoga shala to practice and learn in.
As course leaders we are here to:

• Cultivate your curiosity for Yoga, a small word for a HUGE field of learning
• Fire up passion for your own practice
• Encourage your authenticity so that your teaching will be a natural overflow of this.
During the YTT we will together explore the vastness of the Human Capacity to connect. With our own system, with your fellow students, with nature and the Cosmos. With the indefinable all pervading presence of Energy/Consciousness/Awareness.
Lead Teacher Steve Hall has completed his advanced 500 Hour training, plus 200 hour Kundalini training.
He is looking forward to sharing these in depth  teachings on the Bali training in January.

The Syllabus Includes:

• Asana, Pranayama and Meditation
• Yoga Philosophy and the history of modern yoga
• Yoga asana alignment and teaching methodology
• Teaching skills – the fun stuff!!
• Introduction to adjustments
• Structuring and Sequencing
• Yoga Nidra and guided meditations
• Restorative Yoga and Yoga Therapy
• Applied Yoga Anatomy and Physiology
• Kriyas (Cleansing exercises)
• Establishing yourself as a yoga teacher
 – How to get started – Business & Ethics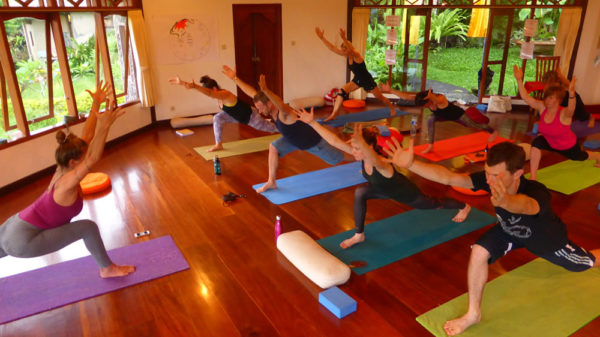 Typical Daily Schedule:

06.30 : Kriyas, Meditation, Pranayama
07:00 : Asana
09.30 : Breakfast and break
10.30 : Group learning time, an alive, interactive look at : Yoga Theory, Methodology, Philosophy or Anatomy.
13.00 : Lunch Break.
15.00 : Group Work, Asana Methodology, Teaching skills
16.30 : Asana – Restorative yoga and relaxation techniques
18.00 : Sunset Chanting, Meditation, Contemplation
During the immersion we will have several days off that will allow you to explore a little of this beautiful Island of the Bali.
Reading list:
For Yoga Philosophy:
"The Heart of Yoga" – Desikachar – Son of Krisnamacharya
For Meditation:
"Buddhism Plain and Simple" – Steve Hagen
For Anatomy:
Ray Longs "Key Muscles of Yoga"
For Asana:
Yoga Sequencing – Mark Stevens
TESTIMONIALS
ANDREW WEBSTER and SUSAN WEBSTER
Location : Nirarta centre for living awareness, Sideman, Bali, Indonesia.
Date : Jan 2017
Rating : 10/10
I had a truly exceptional time during my yoga teacher training with 'Asia Pacific Yoga'.
Surrounded by the lush, green landscape of Sideman it was a beautiful place to ponder and reflect on our learning throughout the course. The location certainly assisted in creating a calm and balanced atmosphere. Furthermore, the staff were very welcoming, helpful and always greeted us with warming smiles. Also, the food was healthy and plentiful.
I'm very grateful for Steve Hall for providing such an unforgettable Teacher training experience. His continual guidance, support and passion for yoga is inspiring and he made sure everyone had a memorable time. His teaching is filled with humour, relaxed and encouraging. He has a wealth of knowledge and experience which he effortlessly shared with us at every opportunity throughout the course both in and out of class. The other teachers on the course were also very experienced and shared their knowledge with passion.
Geri's calm and nurturing approach to teaching was welcomed by everyone. Her demonstrations and insight into yin and restorative yoga were wonderful.
Malcolm joined us for two days to assist with teachings of anatomy. His passionate approach and knowledge of the how the body works in connection with the mind is exceptional.
A definite highlight of this course are the people you share the experience with. I feel overwhelming gratitude for the friendships I developed. I was surrounded by a supportive and caring family of fellow yogis. We danced, we sang, we laughed, we cried, we hugged and we shared. I was fortunate to be surrounded by such compassionate, inspiring and warm hearted people. Friends for life.
I was apprehensive and hesitant about joining this YTT and I'm grateful for my wife for encouraging me to join her on this course. I'm leaving Bali with a greater knowledge of yoga, personal growth, friendship and confidence in sharing all I've learned during this unforgettable adventure.